Past Residents of the Royal Crescent
Scroll down the page or click on the following bookmarks to read about:
Click to read about Air Chief Marshal Sir John Barraclough KCB, CBE, DFC, AFC (1918 – 2008) The man who fronted the Crescent's Battle with the Buses and in making the Crescent Bus free.
Click on the following bookmarks to read about (these extracts are from "By the Waters of the Sul" by the Society's ex Chairman Edward Goring from his time as a colunmist at the Bath Chronicle):
Click on the following bookmarks to read about:
The above profiles were reproduced from "They Came to Bath" by William Lowndes with kind permission from Redcliffe Press - all rights reserved.
The following past Crescent Folk are taken from the Society's Newsletters
Air Chief Marshal Sir John Barraclough KCB, CBE, DFC, AFC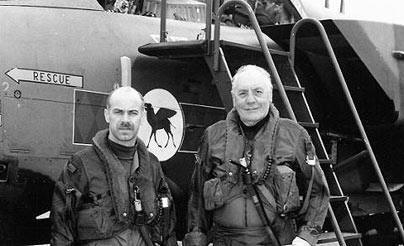 Air Chief Marshal Sir John Barraclough KCB, CBE, DFC, AFC (2 May 1918 – 10 May 2008) was a World War II pilot who went on to become Vice-Chief of the Defence Staff. However he will be remembered within the Crescent as the man who as much as anybody fought to stop the buses on the Crescent and to stop a second hotel on the Crescent so making the Crescent the place it is today.
His long and distinguished service to the Crown and Military is well documented and can be read via the following obituaries in the press:
Lady Barraclough
Lady Barraclough was born in 1913 in Ireland, one of nine children of a large and distinguished family with a connection to Saint Oliver Plunkett, one of Ireland's greatest martyrs. As a small girl she developed, as was expected in such a family, an early interest in horses, an interest that developed into a lifetime love affair. There were so many facets to Maureen's life, both her personal characteristics and accomplishments, that it is difficult to enumerate them all. Countrywoman, horsewoman, military despatch rider, cypher expert, journalist, mature (art) student' (in her sixties, no less), art specialist, linguist, author (in her eighties). She was also a full‑time Service wife, mother, and life‑partner to Sir John, her husband, who rose to the very peak of his profession to become an Air Chief Marshal and Vice Chief of Defence Staff for the nation's entire armed services.
Fish and Chippendale in Royal Crescent By Edward Goring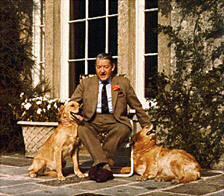 BERNARD CAYZER stepped briefly into the unwelcome limelight at the weekend and listened to the nice things people say about very rich men who dip into their pockets for the public good. He had dipped into his pocket to the extent of around £60,000 for the benefit of Bath.
He bought 1, Royal Crescent and gave it to Bath Preservation Trust as it's headquarters and a Georgian showcase. The house cost £11,000. It was in a very bad state. Restoration and interior decoration cost £77,000 and Major Cayzer paid for most of that, though he has a gentleman's distaste for discussing money and prefers people not to go on about his generosity. His brother is the shipping baronet Sir Nicholas Cayzer. He also prefers the seclusion of his Regency villa at Timsbury where he relaxes in the heated swimming pool with only one regret. No one seems to have invented a floating drinks wagon.
The project for 1, Royal Crescent was his idea. He told me, "I have an insatiable curiosity to see how other people live and I thought it would be wonderful if it could be seen again as it was when the first people lived there in 1767."
The opening was a festive affair masterminded by trust chairman Barbara Robertson, without whom large areas of life in Bath would presumably come to a full stop. The event had the sunny flavour of a society wedding reception, with women dressed to match. A matron in mandarin hat and pale mauve looked genuinely Georgian as is the décor. Under guidance from the Victoria and Albert Museum and London designer Jean Monro, the colours and fabrics breathe life into the house. There's no museum feeling here.
As Sir Anthony Blunt, surveyor of the Queen's pictures, said when he declared the place open, "It has become a living creature almost." At the moment there is little furniture and few ornaments—the trust is appealing for gifts but don't embarrass them with junk from the attic—and it is as if new occupants had just started to move in. A harpsichord in an empty room, a solitary bust, an occasional picture . . .
The décor is so authentic that some visitors were puzzled by the apparently unfinished paintwork. It is in fact a painstaking simulation of the limitations of its period. It was no good saying Dulux to your 18th century decorator. In the dining room there was even an authentic smell. Fish. The experts were puzzled at first. They traced it to the new floor covering—calico painted to resemble tiles—which came in for criticism on aesthetic as well as aromatic grounds.
June, 1970.
ANSTEY, Christopher (1724- 1805) 5 Royal Crescent
In 1766 a small book, The New Bath Guide, was published by Dodsley, a London bookseller. It was written by a country squire from Cambridgeshire called Christopher Anstey, and it became an immediate best seller. The book was not a guide in the accepted sense of the word; it was a satirical review, in verse, of fashionable society in Bath in the mid eighteenth century, and its broad humour found a receptive audience in London and Bath, where it was widely read and discussed. Ten editions appeared during the decade following its publication, and Anstey achieved a modest measure of fame.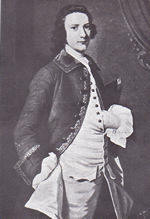 He was born at Brinkley in Cambridgeshire in 1724, and was educated at Eton and King's College, Cambridge, before settling down to manage his father's estates. The idea of the book was conceived after a visit to Bath to take the waters; and following its remarkable success, he came with his wife and children to live permanently in the city, taking one of the new houses that had just been erected by John Wood the Younger in Royal Crescent. The bronze tablet on No. 5 states that this was the house he occupied; but the city's early rate books seem to indicate that No. 4 was his house although for some reason he paid the rates of No. 5 until 1789. In 1792 he moved to a house in the recently completed Marlborough Buildings, and there he lived until the year of his death in 1805.
His marriage was a successful one, and he and his wife lived contentedly together for nearly half a century; he described her as 'the pattern of virtue, and the source of all my happiness'. There were thirteen children of the marriage, but only eight survived their father.
A portrait of Anstey hangs in the magnificent Banqueting Room in the Guildhall at Bath. It was painted by William Hoare, and it shows a dark haired, good looking man in early middle age; he wears a sage green coat, braided with gold, and a long white waistcoat, unbuttoned at the top. into which his left hand is thrust, in the Napoleonic manner. His unlined, fresh complexioned face has an undeniable air of tranquillity and contentment. He looks every inch a successful and happy man a best selling author, savouring the acclaim his work had brought him.
Oddly enough, he wrote nothing else of consequence after The New Bath Guide. The little book remains his memorial, and the justification for the tablet that is dedicated to him in Poet's Corner, in Westminster Abbey. It can still be read with much pleasure and amusement.
Portrait of Christopher Anstey by William Hoare, Victoria Art Gallery, Bath
BURDETT, Sir Francis (1770 1844) 16 Royal Crescent
Sir Francis Burdett lived at No. 16 Royal Crescent from 1814 until 1822. As a politician, he was an ardent champion of electoral reform at a time when it was crucially needed, and he worked tirelessly throughout his life to expose abuses of power wherever he encountered them. As a baronet whose favourite recreation was fox hunting, he seems an unlikely standard bearer for such nineteenth century ideals as prison reform, freedom of speech, and the abolition of flogging in the army; but he served two terms of imprisonment for his outspoken views, and was heavily fined. He never lacked the courage and determination to challenge corruption in public affairs; in 1809, when the born Duke of York was involved in the unsavoury business of Bath, bartered army commissions, he seconded the motion in the, east House of Commons for an enquiry into the Duke's behaviour. He was MP for Westminster then, and represented the constituency for thirty years. No politician Two of his day had greater integrity.
BURDETT COUTTS, Angela Georgina, Baroness Burdett Coutts (1814 1906) 16 Royal Crescent
The deep concern for social reform that motivated Sir Francis Burdett was inherited by his daughter, Angela Georgina. She lived at No. 16 Royal Crescent for the first eight years of her life, and later as Baroness Burdett Coutts, became celebrated for her great philanthropy. Hundreds of worthy causes benefited from her generosity. She administered several charities, endowed St Stephen's Westminster, and other London churches and, as a lifelong lover of animals, gave active support to the work of the RSPCA. At her instigation, sewing and cookery were introduced into the curricula of elementary schools: and she even helped the costermongers of Bethnal Green in East London by providing stables for their donkeys.
She was, of course, immensely wealthy; as a granddaughter of Thomas Coutts, the celebrated banker, she was known as 'the richest heiress in England'. Later, she added his name to her own, and in 1871 she was raised to the peerage in recognition of her invaluable work. She was an indefatigable hostess, and there were few outstanding figures of the day who did not share the hospitality of her table; she was intimate with the royal family, the Duke of Wellington, Sir Robert Peel, Disraeli, Gladstone, Dickens, Sir Henry Irving and many others. She died in 1906 at the age of ninety two, and was buried in Westminster Abbey.
DU BARRE Jean Baptiste, Vicomte (1749 1778) 8 Royal Crescent
In the churchyard at Bathampton, on the outskirts of Bath, there is a tombstone with an inscription that reads: 'Here rest the remains of Jean Baptiste du Barre. Obit, 18th November, 1778'. The brief statement is a sad little postscript to a heated quarrel that took place at No. 8 Royal Crescent, and ended tragically on Claverton Down, in the cold light of a November dawn.
The Vicomte du Barre came to Bath in the summer of 1778 with his wife and sister, and a Captain Rice, an Irish Jacobite whose grandfather had served in the French army. They took a lease on No. 8 Royal Crescent, and arranged lavish card parties in the house, hoping to profit from the gambling mania that gripped the city at that time. But one night they quarrelled over the sharing of £600 that they had won from a Colonel Champion, who lived at No. 29 Royal Crescent. Rice threw down his glove, the challenge was accepted and both men hastily appointed seconds and made their way to Claverton Down, where pistols were primed. Du Barre fired first, and wounded his friend in the thigh. Rice's aim was more deadly; the Frenchman was hit in the chest, and died a few moments later.
Rice was subsequently tried at Taunton, but was acquitted and went to Spain. For the Vicomte, there was only a cold resting place in the churchyard at Bathampton.
FREDERICK AUGUSTUS, Duke of York (1763 1827)
1 and 16 Royal Crescent
George Ill's second son, Frederick Augustus, Duke of York, enjoys a modest measure of immortality because he inspired a nursery rhyme:
'The grand old Duke of York He had ten thousand men; He marched them up to the top of a hill, And he marched them down again'.
After an undistinguished military career he became commander in chief of the army, and was involved in an unsavoury scandal when his mistress, Mrs. Mary Anne Clarke, was accused of taking bribes to procure through the Duke promotions for senior army officers. He was eventually exonerated, but relieved of his command for two years. Nevertheless, he did much to improve the army's standards of efficiency.
He visited Bath in 1795, when he attended the opening of the new Pump Room, and was presented with the Freedom of the city. In the following year he stayed at No. 1 Royal Crescent; the Bath Chronicle announced that 'the Duke of York has engaged the first house in the Crescent, late Mr. Sandford's, as his residence'.
On subsequent visits the Duke lodged at No. 16 Royal Crescent, now part of the Royal Crescent Hotel, where a suite has been named after him. Like his brother the Prince Regent, later George IV, he was a man who loved the good things of life, and he would certainly have enjoyed the luxury of the modern accommodation that bears his name. His coat of arms can be seen over the archway at the east end of Northumberland Place.
Who was the Hon. Charles Hamilton?
Dr Monica Baly spotlights a forgotten figure in the history of The Royal Crescent
Readers may recall that in the winter of 1988 we published 'The Building of the Royal Crescent', in which we produced part of the contract between the Hon. Charles Hamilton of Painshill Surrey and the builder Sam Kirkham made on 21st June 1773. Charles was precise in his requirements including the detailed layout of the two 'Necessarys' in the garden.
Who was the Hon Charles Hamilton who also brought property in Lansdown with a garden that stretched down to the back of the Royal Crescent? A recent lecture on his life and work revealed that Charles Hamilton is as worthy of a plaque as some of his neighbours who are thus remembered.
He was the 14th son of the Earl of Abercom and during the Grand Tour he studied art and garden design in Italy. On return he acquired an estate at Painshill in Surrey to which he devoted years landscaping and creating a garden of different moods with long views across Surrey, complete with grottos, a Gothic temple, a Chinese arched bridge and a ruined Abbey. Today this beautiful C18th Park is being restored to its former glory by the Painshill Park Trust with the Prince of Wales as the patron.
In his day Charles Hamilton was known for his garden designs rather like Capability Brown, with whom he did not necessarily agree. When he came to Bath at the age of 69, having given up Painshill, he continued gardening, growing rare plants and vines on the Lansdown slope (what is now Northampton Street). There is evidence that he advised on gardens and estates around Bath including Beckford and Bowood, and it is interesting to ponder the layout of the garden at the back of No 14 under his masterly hand. He died aged 82 years, still gardening.
Lecture given by Mavis Collier, archivist to the Painshill Park Trust to the History of Bath Research Group.
HARGOOD, Admiral Sir William (1762 1839)
9 Royal Crescent
Admiral Hargood retired to Bath after a distinguished naval career that spanned almost sixty years, and lived at No. 9 Royal Crescent from 1834 until his death in 1839. At the time of Trafalgar he was a captain commanding the Belleisle, a 74 gun ship of the line under Nelson's flag.
Hargood was promoted admiral on July 22nd 1831, and two months later, on the occasion of William IV's coronation, he was awarded the KCB. He had served as a lieutenant with the King then Prince William Henry on the frigate Hebe in 1785, and afterwards they had corresponded regularly; the award was a gesture of friendship from one old salt to another, but richly deserved, nonetheless. After a three year spell as commander in chief at Plymouth, Sir William spent five years of retirement in Bath, and died at No. 9 Royal Crescent on 11th September, 1839. He was buried in Bath Abbey, and his portrait hangs in the famous Painted Hall at Greenwich.
Frederic Harrison (1829 – 1921) , 10 Royal Crescent
By Mike Daw
Freedom and the Crescent –Revisited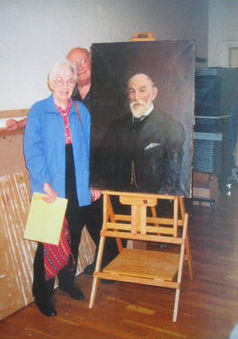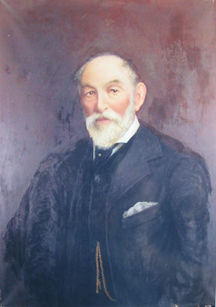 Professor Vogeler and her husband in the vaults of the Victoria Art Gallery, viewing the portrait of Harrison painted by Margaret Cooksley, 1844-1902
In November 1921 an illustrious resident of the Crescent, Frederic Harrison, who lived at No. 10, was presented with the Freedom of the City of Bath at the Guildhall. Shortly afterwards the usual bronze plaque was fixed to the house recording his time there, from 1912 until his death in 1923.
Harrison was a true 'man of letters' of his day and indeed an intellectual giant. He published several of his most important works while he lived here. The titles give a flavour of some of his specialisations Positivism, its Aims and Ideals and The Philosophy of Common Sense and The Positive Evolution of Religion. As a barrister he was a member of two Royal Commissions and for a time was Professor of jurisprudence and International Law at Lincoln's Inn Hall. He was an admirer of Comte's positivist philosophy and was a contemporary and friend of George Saintsbury, who lived at No. 1.
On his ninetieth birthday in 1919 he was paid a remarkable tribute. An appreciative address was presented to him in his library, on the first floor of No. 10, signed by the Prime Minister Lloyd George, by the leaders of both the Liberal and Labour Parties and by many prominent figures in the Church, the professions and the arts.
In this country his name and contribution fell into semi obscurity, despite a lengthy entry in the National Dictionary of Biography. However in far off California, in the State University at Fullerton, Professor Martha Vogeler and her husband were in the latter part of the twentieth century developing a deep interest in Harrison. This culminated in her definitive biography Frederic Harrison, The Vocations of a Positivist which shone new light on the man as 'one of the most vital and engaging of his age'.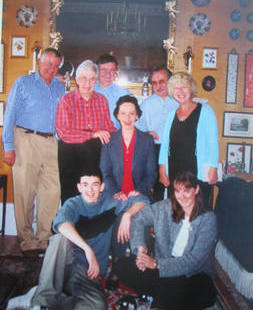 Coming right up to date, in September 2001 Professor Vogeler brought Harrison's surviving descendants (above) to Bath and revisited the room that had been the setting for the presentation of the Address.
They kindly presented the present owner, Michael Daw, with specially printed copies of Harrison's response to being made a Freeman of the City and a wonderfully detailed description of the way his library had been furnished. Michael had arranged for a private showing of Harrison's portrait, now in the vaults of the Victoria Art Gallery, and presented the descendants with a digital reproduction of the painting. John and Barbara Walker from the upper floors of
No. 10 joined in what became quite an event: John has the distinction of having actually read some of the great man's works. Harrison's great granddaughter Christian and his great great grandson Matthew were thrilled by the visit and a jolly time was had by all.
HAYGRATH, Dr John (1740 – 1827)
15 Royal Crescent
In 1798 a distinguished physician took up residence at No. 15 Royal Crescent, next door to the centre house. He was Dr. John Haygarth, and he occupied the house for two years. For more than thirty years before that he had served as physician to Chester Infirmary, and he was in his late fifties when he came to Bath.
In those days the attention paid in hospital to such elementary precautions as isolation, ventilation and scrupulous cleanliness was negligible. John Haygarth was the first English doctor to appreciate their crucial importance, and to apply them rigorously. He conceived the idea, which is now universal, of separately treating fever patients in isolated wards, and Chester Infirmary adopted the principle in 1783. It seems incredible to us now, when we take hygiene in hospitals for granted, that these basic health requirements were hardly recognised two hundred years ago. Dr. Haygarth was a pioneer in their implementation, and he is remembered in medical history for the vital contribution he made to the advancement of public health.
GEORGE DURANT KERSLEY OBE, TD, DL, FRCP, Hon DSc
20 Royal Crescent
George Kersley was a pioneer in rheumatology when it was still a 'Cinderella' subject in modern medicine. The eldest son of an eminent Bath family at an early age he saw the sufferings of the visitors to Bath who came to 'take the waters'. When he completed his training at St Bartholomew's he resolved to take a research post at the Mineral Water Hospital (later the Royal National Hospital for Rheumatic Diseases), this was a brave decision since with his ability, good looks and charm he could have found a post in a fashionable consultancy in London.
During the war Kersley set up the Army School of Occupational Therapy at Taunton and worked as an adviser to the Army on the training of recruits and the rehabilitation of the wounded from the Middle East. Meanwhile, the Royal National Hospital had been badly damaged in the 'Baedeker' raids and the patients were dispersed in temporary huts, which is how I first knew this hospital and George Kersley. With the coming of the National Health Service there was an attempt to close the hospital which George Kersley fought off. There then started a long battle the 'Save the Min' particularly during the time of the Hospital Plan under Enoch Powell. George Kersley was indefatigable and fought off five successive Ministers of Health and against all odds the 'Min' survived and is now a refurbished Trust Hospital.
As a consultant George Kersley interested himself in research and was a founder member of both the Empire Rheumatism Council (Now the Arthritis and Rheumatism Council for Research) and the British Association for Physical Medicine. It was largely due to George Kersley's efforts that this speciality gained recognition from the Royal College of Physicians. George was always a fighter.
In 1979 he was elected Mayor of Bath and was also a founder member and chairman of the Bath Tattoo for which he was appointed an OBE, he was active on the Bath City Council, chairing its committees for the Arts, Libraries, Youth and the Spa, and he was still fighting for the restoration of Bath as a Spa City at the time of his death.
Since living in the Crescent George Kersley has been an active supporter of the Royal Crescent Society and a doughty campaigner in times of trouble.
There was a well attended service of thanksgiving for the life of George Kersley in Bath Abbey on October 4th followed by a reception in the Guildhall which was a happy occasion of which George would, have approved.
LAMBALLE, Marie Therese Princesse de (1749 1792)
In 1786 an important visitor from France lodged at No. 1 Royal Crescent. She was Marie Therese Louise de Savoie Carignon, Princesse de Lamballe, friend and lady in waiting to Queen Marie Antoinette. According to the Bath Chronicle of 27th September 1786, she arrived with a large retinue of servants, and her personal physician. She was a pale, slim lady with curly, fair hair and a prominent nose. She was abnormally sensitive; if she suffered the slightest shock, she would collapse into a faint that often lasted for two hours. The smell of violets made her disastrously ill, and the sight of shellfish, even in a painting, sent her into a nervous fit.
She came back to England in 1791, when the French Revolution was at its height, hoping to persuade the British royal family to help Louis XVI and Marie Antoinette to escape from France. But when she returned to Paris she died horribly, as the Revolution reached its bloody climax in the September Massacres of 1782.
LINLEY, Elizabeth (later Mrs. Sheridan) (1754 1792)
11 Royal Crescent
She was beautiful, and she sang like an angel. Gainsborough and Reynolds painted her portrait; two men fought duels over her; and George Ill, if we are to believe Horace Walpole, 'ogled her at an oratorio'.
Elizabeth Linley was a member of a very talented musical family. Her father, Thomas Linley, arranged concerts in Bath, gave music lessons, and played the harpsichord expertly. Thomas, her brother, was an accomplished violinist who visited Italy as a child prodigy, and won the friendship and approbation of Mozart: he died tragically in a boating accident when he was twenty two. And Mary, her sister, was also a talented singer. The family had lived in Bath for many years first at Abbey Green, then at Pierrepont Place, close to the Doric archway that links Orchard Street and Pierrepont Street (there is a bronze tablet here), and finally at No. 11 Royal Crescent.
Elizabeth's beauty naturally attracted several suitors. But eventually two men emerged as chief contenders in the inevitable race for her favours. One was Richard Brinsley Sheridan, the future playwright, whose father taught elocution in Bath; the other was a married man, Captain Thomas Mathews. Sheridan showed his resourcefulness by persuading the lady to elope with him to France from No. 11 the Crescent; but when they returned to England, Captain Mathews was simmering with hostility, and lost no time in publishing a strongly worded attack on Sheridan in the Bath Chronicle. The two men fought twice with swords, in London and at Kingsdown near Bath, and in the second encounter Sheridan was seriously wounded.
The passionate scenario appeared to have a happy ending when Elizabeth ultimately married Sheridan at Marylebone Church in 1773. But two or three years later, the embryo playwright emerged into the limelight; his two great comedies, The Rivals and The School for Scandal, were staged successfully, and he became the proprietor of the Drury Lane theatre. Later, he was elected MP for Stafford, and achieved some notoriety as a politician and a close friend of the Prince of Wales. Poor Elizabeth found it difficult to cope with her changed circumstances, and with Sheridan's infidelity. She contracted tuberculosis and died in 1792, at the tragically early age of thirty eight.
The bronze tablet on the facade of No. 11 Royal Crescent commemorates her famous elopement in 1772.
MONTAGU, Elizabeth (1720 1800)
16 Royal Crescent
Because of her penchant for literary causeries, and for her dedicated efforts to replace cards with conversation, Mrs. Montagu became known as 'Queen of the Bluestockings'. She was a celebrated hostess in the eighteenth century who gave genteel parties at her London home and at Bath, where the emphasis was on intellectual talk. Conversation, in Mrs. Montagu's view, was infinitely preferable to gambling with cards or dice, which she heartily disliked.
Her husband was Edward Montagu, a wealthy man who +s a grandson of the first Earl of Sandwich; they were devoted to each other, but they led individual lives, and Mrs. Montagu found a great deal of fulfilment in Bath, where she lived in several houses in Orange Court, Edgar Buildings, Gay Street, Queen's Parade, the Circus and Royal Crescent. She entertained frequently, and Fanny Burney, Mrs. Thrale, Lady Huntingdon, Christopher Anstey and Lord Lyttleton, among others, enjoyed her hospitality, and the conversation that she so assiduously engendered.
The house she occupied in Royal Crescent appears to have been No. 16. She refers to it in one of her letters as 'the centre house', and goes on to say 'the beautiful situation of the Crescent cannot be understood by any comparison with anything in any town whatsoever'.
22 Royal Crescent
Lady Celia Noble lived at No. 22 Royal Crescent for many years, and died there in 1962 at the age of ninety two. She was a grand daughter of Isambard Kingdom Brunel, the celebrated engineer who built the Great Western Railway and designed the revolutionary steamship Great Eastern.Her father, Arthur James, was an assistant master at Eton, and her mother was Brunel's daughter, Florence. After her marriage to Saxton Noble, who later succeeded to a baronetcy, she became well known as a hostess in musical and artistic circles in London, and after she came to Bath she continued, for many years, to arrange concerts of chamber music at her home in the Crescent. Princess Marie Louise, a grand daughter of Queen Victoria, stayed with her whenever she came to Bath, and Queen Mary, consort of George V, visited her frequently during the last war. Her salon was the last of a line that stretched back to Mrs. Montagu in the eighteenth century.
17 Royal Crescent
The invention of shorthand is usually credited to Sir Isaac Pitman, although Samuel Taylor had published An Essay intended to establish . . . a universal system of Stenography as early as 1786. Pitman adapted Taylor's principle, and produced a much more practical and sophisticated method. He invented a system of phonography, or writing by sound, in 1837, and finally produced the famous shorthand system that is always linked with his name.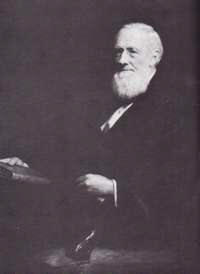 As a young man, he was dismissed from his job as a schoolmaster at Wotton under Edge in Gloucestershire, because he joined the 'New Church' founded by Emmanuel. Swedenborg. Soon afterwards, in 1839, he came to Bath, and lived at No. 5 Nelson Place for four years. He loved the city, and at that time he wrote: 'Of the many beautiful cities in this fair country, Bath is unquestionably the most beautiful'. Much later in his life he took a house in the Royal Crescent (No. 12), and seven years later, in 1896, he moved to No. 17, where a bronze tablet commemorates his tenancy. He died there, at the age of eighty four, on 22nd January, 1897.
Throughout his long life he was a man of regular habits and unshakeable convictions. A London newspaper described him as 'teetotaller, vegetarian, Swedenborgian, anti vaccinationist, non smoker, spelling reformer, and inventor of phonography. At 84 he was still working hard at his desk at 6.30 every morning, summer and winter'. And there can be no doubt that his rigorous self discipline brought him happiness and fulfilment; the day before he died, he wrote a brief note to the Rev. Gordon Drummond, Minister of the New Church at Bath, in which he said 'To those who ask how Isaac Pitman died, say, Peacefully, and with no more concern than in passing from one room to another, to take up some further employment.'
Portrait by Sir A.S. Cope, National Portrait Gallery, London
20 Royal Crescent
In 1778 a young woman called Fanny Sage came to stay in Bath with her uncle, the Rev. Thomas Sedgwick Whalley, DD. Dr. Whalley lived at No. 20 Royal Crescent; and when he heard that his sister, Mrs. Sage, had died, he immediately offered her daughter the hospitality of his comfortable home.
Fanny stayed at No. 20 for something like ten years. She was an attractive young woman who sang well and played the harpsichord expertly. Romney painted a full length portrait of her. She became well known in the city, and her charm and personality, allied to her beauty, earned her the unofficial title of 'Queen of Bath'.
Later Fanny married, and spent most of her time abroad. In 1828 she was widowed, and living in France at La Fleche on the Loire. Her remaining years were spent in complete obscurity recollecting, perhaps, those halcyon days in Bath when she was the toast of the city.
George Saintsbury (1846 - 1933), 1A Royal Crescent
John Walker celebrates the critic who retired to write of a life devoted to books and wine
<![if !vml]>

<![endif]>
During the 1920s and early '30s many tourists visited the Crescent not only to see its renowned architecture but in the hope of glimpsing another attraction with an 18th century appeal the bent, somewhat shuffling figure of George Saintsbury who, with his white beard and black skull cup, looked more worn and venerable than the surrounding buildings.
His home in what was then part of 1, Royal Crescent, and is now la, was a familiar address not only to gawking passers by but to the many writers, including Rudyard Kipling, who came to pay court and seek his advice. Saintsbury was the most influential literary critic of his time, perhaps of any time, and the best read man of his age and, perhaps, of any age.
His influence is still apparent, although not so much in literature. He was the godfather of today's colour supplement and Sunday newspaper wine writers, thanks to his much read and copied Notes on a Cellar Book, which was written at No la, and is 'a little, genial perfect work of art', according to The Observer. His love of good food and splendid wines led to the formation of the Saintsbury Club to honour him and to indulge in both.
Saintsbury's life was long enough for him, when young, to have been excited by Swinburne's first poems and, when old, to have been asked to review T.S. Eliot's The Waste Land, which he sensibly declined to do. He came to the Crescent after his retirement from Edinburgh University, where he had been
Professor of English Literature, notable for his vast and erudite works on prosody and English criticism, and reverted to what he had done before he entered academic life, which was literary and political journalism.
While living at No. 1 he wrote his three Scrap Books, published between 1922 and 1924, which are autobiographical jottings on whatever took his fancy. They are an acquired taste.
My copy of his first volume has a scribbled note from an admirer, saying that Saintsbury was 'a man to honour'. George Orwell, who called Saintsbury 1 probably the most widely read man in Europe', wrote of it in The Road to Wigan Pier 'it takes a lot of guts to be openly such a skunk as that'. Orwell was no doubt thinking of such asides in the Scrap Books as: 'I know something of history, and I have never heard or read of any class tyrant, aristocrat, capitalist, slave holder, buccaneer, middle class shopkeeper so absolutely and exclusively governed by selfishness as Trades Union "Labour".' And: 'The two commandments of "Labour" are: Nobody else shall have anything that I have not. Somebody else shall pay for everything I have.' Saintsbury's written and conversational style was convoluted. A student once noted a typical sentence in a lecture: '...but while none, save these, of men living, had done, or could have done, such things, there was much here which whether either could have done it or not neither had done.'
Who could guess what he is writing about in this typical passage from A Scrap Book? 'But personally I do not know anything which has, during my own lifetime, experienced so severe and so prolonged a decadence as the article which was sold by that admirable person who out Cleoned Cleon (0 for him to be in England now!); which, becoming alive, supplied the loyal subjects of Queen Niphleseth; which formed, in another sense, the subject of one of the pleasantest essays of Charles Lamb; and which was judiciously selected by King Valoroso as the solid of his breakfast to the Prince of Crim Tartary.' His subject is pork sausages! (He regarded beef sausages as always an abomination.)
He died at the age of 87 in 1933, having lived an immensely productive life until the very end. He had retired to Bath because of its associations with the 18th century. He was seeking, he said, 'rest and refreshment'. He found them both in the Royal Crescent.
THICKNESSE, Philip (1719 1792)
9 Royal Crescent
He was a soldier of fortune, an irascible eccentric and, if he himself is to be believed, the man who persuaded Gainsborough to come to Bath. Ill tempered and aggressive, with an inordinate capacity for making enemies, he longed for wealth and recognition, and was prepared to follow almost any path that would lead him to either.
Thicknesse settled in Bath in 1749. During his second marriage he lived in East Anglia, where he had purchased the governorship of the Landguard Fort at Harwich. He met Gainsborough in Ipswich, and claims to have convinced the struggling young painter that he could improve his prospects considerably by going to Bath. The advice was sound, and Gainsborough took it; he arrived in the city in 1759, and soon achieved great success as a portrait painter.
Accompanied by his third wife, Thicknesse returned to Bath in 1768, and bought a house at No. 9 Royal Crescent. Six years later, he quarrelled with Gainsborough, and after the artist had left Bath for London, he moved to a cottage behind Lansdown Place called St. Catherine's Hermitage. He wrote extensively at this time, still quarrelled regularly, and travelled in Europe whenever he could. Among his literary effusions were three volumes of revealing memoirs, and The New Prose Bath Guide, a factual description of the city which he hoped might rival Anstey's best seller in popularity. It was not a great success; but it bears the unmistakable stamp of his eccentricity, and can still be read with enjoyment today.
General West moved to the Crescent in the mid 80s having retired in the late70s after some 40 distinguished years in the US Army and US Department of Defence. In 1939 he was awarded the prestigious cadet medal of the Star of the West before he saw active service in World War II against the Japanese , where he was ADC to General MacArthur, in the Korean war and finally in the Vietnam war as Lt Colonel. He then became President Nixon's Chief of the Safeguard Missile Support Group. He also was awarded the French Croix de Guerre and the Philippine Legion of Honour.