History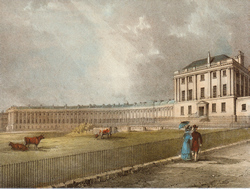 Bath is steeped in history back to the Celtic times. Its Roman period is well documented and their legacy remains today with outstanding buildings such as the Roman Baths. During the Georgian period the city blossomed and the grand Crescents, Circus and many of its splendid Streets were built.
It was granted city status by Royal Charter by Queen Elizabeth I in 1590 and was made a county borough in 1889 giving it administrative independence from its county, Somerset. The city became part of Avon in 1974 and since 1996, when Avon was abolished, Bath has been the principal centre of the unitary authority of Bath and North East Somerset (B&NES).
Bath has been and continues to be very heavily associated with the arts and in particular literature. Like many English cities it has been touched by war and it has has enjoyed times of huge popularity and times when it was a "forgotten" city and its splendid architecture neglected.
The Crescent is very fortunate to have Number One as a Museum run by The Bath Preservation Trust and sharing what a Georgian House would have been like yesterday.
Click to read about Number One, its history and its latest exciting expansion plans.
We have divided our look at History into four sections which can be linked to by clicking on the links at the top of the page or the references below: