General Information
Things you may not know about the Royal Crescent...
In 1766 John Wood the Younger took a lease on land from Sir Benet Garrard to build "good stone messuages in a workmanlike manner". Building began in 1767 and all the houses were occupied by 1778.
There are 30 houses in a crescent 538 feet across.
The facade is decorated with 114 giant order Ionic columns, i.e. the columns extend over two floors.
The columns are 2' 6" in diameter and 22' 6" high
From pavement to parapet the building is 47 feet high, or 5 feet higher than the Circus
The original roof was stone.
Today eight houses are each occupied by one "family" (though two of those make one unit!)
There were plans in 1945 to turn it into civic offices
It took 18 years to get the tourist buses and coaches banned from the Crescent
At the peak over 600 buses and coaches a week were logged using the Crescent between 8am and 8pm and the greatest number in one hour being 25
In addition to normal traffic load, approximately 9,000 tons of coach traffic was using the Crescent per week before the ban.
During the war and up to 1956 the lawn was a "cabbage plot" with 72 allotments.
Bath is one of only 812 UNESCO World Heritage Sites in the world.
Click to Read About the Restoration and Expansion Programme at Number 1 (The Museum)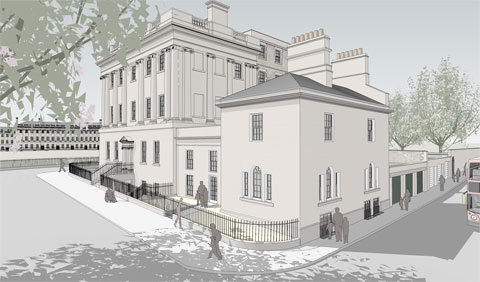 Click to read general information on Number One, its history, see a virtual tor and find out about opening times..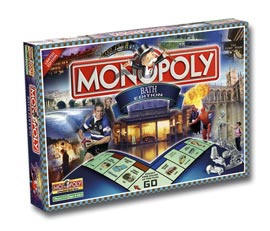 If you want something special this Christmas why not settle down with the family and play Monopoly but not just any old Monopoly but one based on Bath!
London famous landmarks have been replaced by Bath's own famous landmarks in this special edition. The top slot of Mayfair has been taken by the world renowned Roman Baths, with a price tag of £400, Number 1 Royal Crescent has taken the Park Lane square, which is the second most expensive at £350;
The bottom priced square, Old Kent Road, has gone to Sydney Gardens at £60. Other Bath landmarks that feature on the board include the Guildhall, Green Park Station, Bath Abbey, Design Central on Widcombe Parade, Duke's Hotel, The Circus, Bath Spa station, the Theatre Royal, Abbey Ales, Eric Snook's The Golden Cot and The Holburne Museum. The Assembly Rooms, Victoria Art Gallery, Pulteney Bridge, Bath Rugby Club, Bath Sports and Leisure Centre, Bath City Football Club, Bath Tourism Centre, Beckford's Tower, Sally Lunn's, Kennet and Avon Canal and Royal Victoria Park also feature.
Royal Crescent Greets All
Everyone flying into Britainís largest airport at Heathrow will be greeted by a poster featuring a picture of the Royal Crescent. National tourisms agency Visit Britain and airport operator BAA are running a campaign to promote all areas of the country to international visitors from around the world.
The images were commissioned by Visit Britain and are being displayed along the Terminal 1 arrivals route which is used by 67 million customers a year. It is hoped that the rich diversity of culture, natural and built landscapes will help drive tourists to visit more than just London and point them towards destinations such as Bath and the Royal Crescent.
See Maps, Find out how to get here, What to see, Where to stay and much more ...
By clicking on the navigation guides at the top of this page you can view maps. Within the tourist information, find how to get here, where to stay, what to see. Finally under Links To Bath sites there is much valuable information.